A scarce and unusual Mott Token
(dated 1789)

(Item #1)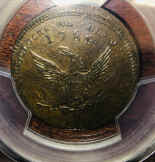 (front)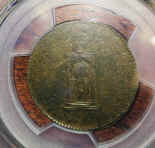 (back)

$675.00


Numismatists study the art and history of currency and have written extensively about this early example of a trade token. Previous reports have attributed the tokens to members of the Mott family of New York. These privately produced tokens have been variously dated from 1789 (the date on the coin itself) to as late as the 1830s. Our research indicates that the date "1789" is the year a jewelry business was started in New York City by Jordan Mott, Sr. (1768-1840). [Source: Brooklyn Daily Eagle advertisement from December 1852.]

The side of the coin with the date (the obverse) shows an American eagle similar in design to that created by John Reich, appearing on gold coins from 1807. The back of the coin (the reverse) is unique because it shows a mantel clock. Clock collectors will recognize the case style immediately, as it resembles that of a French mantel regulator dating from the first quarter of the 1800s.

This example of the Mott Token is about the size of a contemporary quarter dollar and is distinguished by the fact that it is early production, based on the lack of a die defect in the area of the clock. The coin was stamped from a thin copper disk (called a planchet) after three strikes. This was a minting error. The triple strike is readily visible in the area of the date and around the clock.

This is an unusual and scarce example of early Americana that will please the clock and coin collector alike. Our Mott Token comes in a sealed Professional Coin Grading Service (PCGS) authentication holder and has a grading of almost uncirculated (AU-50). PCGS is the premier currency authentication and grading service.


Ithaca
Calendar Clock Company cut glass pendulum

(Item #2)

Spun brass hemisphere
for French swinging
arm clock

(Item #3)

Headpiece (Fronton) for French Morbier clock

(Item #4)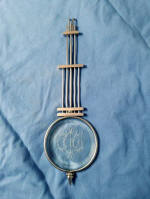 7.5" L (19.7 cm)
Exact reproduction of Ithaca pendulum for 3 ½ "Parlor" and "Kildare" models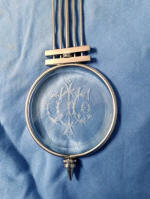 Nickel plated brass and etched glass with "ICCCo" logo
(see detail image above)
Country of origin: USA
Condition: new
In stock
Quantity: 1
$200.00 each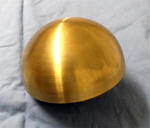 4.1" diameter (10.5 cm)
Hard-to-find item for
restoration project
Country of origin: USA
Condition: new
In stock
Quantity: 2
$125.00 each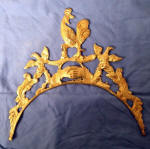 8.7" (22 cm) H x 8.7" (22 cm) W
Symbolizes "Fraternity" from the Revolution period with clasped hands (see detail
image below)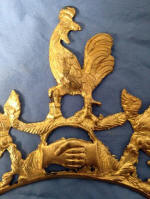 Brass casting from an original
Country of origin: France
Condition: new
In stock
Quantity: 1
$225.00